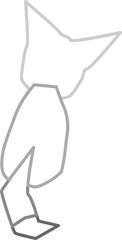 Welcome to my portfolio page!  Are you here for professional diligence, or admirable curiosity?  Either way, please peruse the games, stories, songs, and studies I've written.  I hope you'll enjoy them!
---
Brief Bio:
I'm a game designer/writer who has published games as Laika Fawkes, Rad Dragon, and Universal Happymaker. Originally from New Hampshire, I've stopped at Hamilton College and the University of Southern California along the way to my current home in Seattle.
My professional goal is to make games that explore new themes and ideas without sacrificing entertainment.  I'm excited to explore the manifold frontiers for innovation in interactive narratives, and in particular I've spent years studying recombinant narrative and computerized storytelling.  My favorite genres are tactics, RPGs, sports, and (of course) weird narrative thingies.  Outside of games, I love indie rock and feel terribly sentimental about baseball.
Current Status:
– Happily married to Samantha Vick
– Roommates with Maya the Cat and Beowulf the Dog
– Working as Creative Lead at TechSmart
– Writing narrative and composing music for Wintermoor Tactics Club
– Making Astronaut: The Best in my spare time
– In a rock band called The Last Book Club (album hopefully coming this autumn)